Let it be known: my hoarding knows no bounds.  I hoard everything, especially nail polish.  I may or may not buy the same color from different brands just because.  I may or may not buy repeat colors that I really love out of fear for famine.  I don't even know where to begin.  I basically end up with a pile like this, except it exists in multiple boxes and other miscellaneous bottles scattered throughout my room. :
So I hopped to my local office supply store (Let's be real, I went to Target) and scooped up some of those round binder reinforcer things.  I was really aiming to get solid circles, but these will get the job done since they fit perfectly on top of nail polish bottles.  Other circle-y stickers were way too big. 
Next, I separated my shades into Cool and Warm colors (a little art lesson for ya. Thanks, Mrs. Schmitt) and colored it onto these circles.  No need to be neat, only the sticker part needs paint anyways (I lie, see the result later).  Make sure you line up the bottles to match the order of stickers while they dry.  Pro Tip: make sure you actually paint the sticker.  After they dried, I realized I was painting THE BACK SIDE.  So terrible.   
I do two coats to bring out the true color of the sticker.  If it is a glittery polish, I do a stamping motion to get the most glitter all over the sticker.  When you swipe like other polish, it kinda drags the glitter around, and then into the sticker donut.  Then, stick those bad boys onto the tops of the bottles.  It's super messy since the paint likes to stick to itself (well thats a relief, I wish they would do that on my nails…)
Then, I stick them back in their box in ombre-like organization, i.e. darkest to lightest.    
I stored them in clear plastic shoe boxes I had gotten at Costco (Similar).  It's not the ideal storage solution, but I am able to see which color I want just at a glance, rather than picking through a pile of a disorganized mess.
Speaking of ideal organization of nail polish, I'd much rather have these options if I had unlimited time, resources, and square footage:
From DIYNCrafts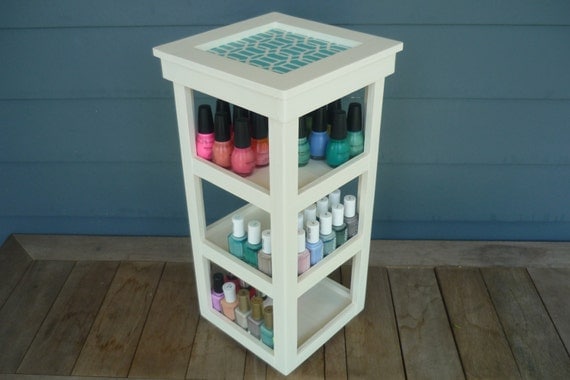 From Etsy
From Polish Chest